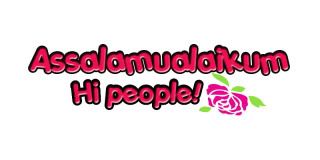 Assalamualaikum and Hi.
Its okay to get jealous sometimes.
Aku cuma nak cakap apa yang kau tengah rasa sekarang ni memang betul. Yes memang betul lah tu. Sebab kita ni bukan hidup dalam dunia ni sorang sorang, kita hidup dalam masyarakat, komuniti. Kalau nasib kita tak baik, hari hari kita jumpa orang yang hebat hebat dari kita. Pernah rasa down? Well to be honest, aku memang banyak kali mungkin juga countless. Bukan setakat rasa down, rasa tak guna pun ada haha. But Alhamdulillah those days yang rasa macam diri ini useless dah memang long gone. I am here to be a better person *semangat*
InsyaAllah.
"Being envious and jealous of others will rot your heart. Ask Allah to increase His blessings towards them, and you will see your heart blossom".
(Saad Taslem)
Aku harap dapat menulis dengan tenang lepas ni. Hmm.
Dan aku harap takde siapa kenal aku di dunia realiti. Hmm.
Macam tak logik. Memang tak logik.
Doakan saudara saudara kita di sana. Amin.
Saat ni apa yang mereka tengah buat? Hmm.