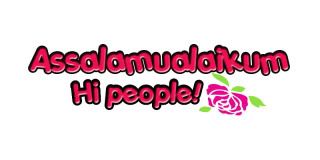 Assalamualaikum and Hi.
Finally, I have the courage to update something. Haha. Korang mesti rindu aku sangat sangat kan? yeah I know.
But to be honest, I have struggled to think of a topic to write about and until this moment, I have no idea about what I should share with you guys. Nak update pasal hidup sehari hari macam tak guna jer sebab aku memang do nothing dua tiga menjak ni, nak update pasal raya pulak macam hmm aku just spent my hari raya makan dan makan non stop. So kalau aku update pasal raya dan how much food yang aku dah sumbat dalam badan aku for the past few days. I am pretty sure that the most popular question will be "How much kg/weight have you gained?" And I personally have no intention to share my weight to the whole world ! No! Pathetic.
Tak tahu lah sejak bila update blog ni dah jadi sesuatu yang sangat payah bagi aku. Kalau dulu rilek jer. Sekarang even blogspot ni pun aku jarang bukak. Empat hari sekali mungkin. Haha. Well, no one should be blame for that.
Tadi aku duk browsing the net until I found this quote yang aku rasa sangat meaningful at least for me. Kalau korang rasa tak best hmm well no one cares. Aku boleh tulis apa jer since ni blog aku remember? Hehe.
Too excited sampai post kat facebook dulu dari blog sendiri. Haha.
Bagaimana masa lampau atau pengalaman membentuk siapa kita hari ni? How our past affects our present?
For me, this is a difficult question to answer because at this moment I am only able to recognize that I am a dramatically different person but I cannot articulate exactly how all these past years have changed my perception and sense of self.
It is an exhausting reality, being held by our past.
Kita semua ada masa lalu, ada kenangan yang manis dan tak kurang jugak yang pahit. Macam aku sendiri aku ada moment moment yang aku nak selalu ingat sampai ke tua dan aku ada moment moment yang memang crap dan aku kalau boleh nak buang semua tu jauh jauh. Seriously. I'm sure I am not the only one who has all these things in my head. Do our experiences from the past shape our future? The answer is probably, Yes.
Everyone has a story. Each of us has at least one tiny detail of our life that could possibly break our hearts. But I tell you what, your story and your past do not define you. Your scars are only a part of your story. They are not who you are.
I cannot sit here and judge anyone's else pain or trauma. We all have experienced something yang mampu buat kita rasa macam down tiap kali ingat moment tu. Aku pun ada. No one can measure anyone else's pain or say that theirs is worse than others. Aku sendiri tak boleh claim that my past experiences are worse. I've realized that there comes a time when you are a big girl/ an adult, where you accept the trauma and you move on. You take your past, and close that chapter of your life, say farewell to bad people who give bad impacts to you and let them all go.
The thing is macam mana kita sendiri improve diri kita untuk jadi someone yang lagi baik dari kita punya masa lampau. Sebab kebanyakan kita hari ni lebih berminat untuk mengungkit daripada belajar ( I myself do this all the time). Think about it this way: How long are you going to allow yourself to be a victim of your past?
Aku rasa itu masalah utama kita bila kita selalu menjadikan kenangan atau pengalaman pahit dulu sebagai satu dinding penghalang kepada kita to be better. Kita telah bina satu dinding yang besar antara kita dan kejayaan/ masa depan. And instead of jumping/ crossing over the wall, we choose to sit back and you know we start to have all those things in mind "I will never win" or "Dulu pun aku pernah buat jugak dan aku gagal so lepas ni memang konfirm gagal". Haha. All those poisonous thoughts that we feed our brain will directly affect our actions. Then at the end of the story, we end up as negative persons who do nothing. Holding onto negative feelings and resentment only hurts yourself in the long run. Seriously.
I have met a lot of people. I hear and see a lot of things. I hear people everyday use their past as an excuse for not turning their life around today. I hear them complain about their childhoods, their parents, their circumstances and etc. I am here to tell you that my childhood wasn't so wonderful either. I was raised by my Ummi to be a responsible woman (although I failed a lot ) and I was taught to do things in the correct way (well korang takkan faham apa ni). Waktu zaman sekolah, I thought I was the most unlucky girl sebab my parents memang jenis yang you know kawal anak anak before they reach certain age or before they become matured enough. Sekarang bila dah besar, I guess its normal laa kan sebab anak anak semua perempuan (cantik pulak tu LOL). Maybe mak aku risau kalau lepas anak bebas nanti haa jadi apa apa. When I was young, I was not allowed to use public transports at all. Nak pergi mana mana mesti kena umi atau papa yang hantar. My parents won't allowed me to mix up with certain people and I rarely keluar dengan kawan kawan (except certain people macam tikah) to shopping malls or etc unless ada event event yang betul betul penting.
But now, bila aku dah besar. Maybe my mum thought that this is it. The moment to let go of your daughter so that she can experience sendiri bagaimana hidup ni. Macam mana rasa bila kita jatuh, gagal. Macam mana susahnya untuk travel dari satu tempat ke satu tempat tanpa kereta sendiri. Macam mana susahnya nak guna public transport yang most of the time selalu tak punctual. Sekarang baru aku rasa semua tu. Sekarang memang I get full freedom. Aku boleh pergi ikut suka hati. Aku boleh bawak kereta ikut suka aku ke mana jer aku nak pergi. Tapi tak bermaksud bila kita diberi kebebasan sebegitu, we will go over the limit. Sebab bila kita dididik dengan cara yang sebegitu (jangan keluar malam, pakai baju biar sopan and etc) lama lama kita akan biasa dengan cara tu walaupun kita dah diberi kebebasan. Didikan tu penting.
Kadang kadang kita tak nampak apa kebaikan sesuatu hal tu sehingga kita sampai certain level, baru kita akan sedar.
Kalau kita pilih untuk tak nak perbaiki diri sendiri. Its okay. You can tell the same story every day of how your childhood messed you up until today, you can blame the negative feelings towards the way you were raised, you can hold resentment, pain, anger and hate. Or, you can let go. When we choose not to forgive our past or the people who responsible for our past, we will remain stuck in the present that will never advance to the future.
Your past is already written, you have experienced them. But your future is a blank book waiting for you to start it. Tidak ada masalah untuk kita mengigati masa lalu kita sebenarnya as long as kita tak get carried away atau selamanya tak nak improve diri sendiri (being static). Use your past a reminder of where you came from and let it make you a better person. Let it make you stronger, and more understanding haha. Kita kena percaya yang one day apa yang kita lalui hari ni jugak akan jadi kita punya pengalaman. So just buat yang terbaik hari ni supaya satu hari nanti, kita tak menyesal dengan apa yang kita telah buat.
Everyone has a past. Everyone has a story. And certainly, don't use your past as an excuse for who you are today and how you are today. Just improve diri sendiri k.
Memang dah banyak gila mengarut. Ayat pun dah tak tentu hala. English lintang pukang. Bye. Night. Assalamualaikum.
Jangan lupa doakan aku punya result final exam (tak tahu keluar bila) dan aku punya Muet 10 November ni k.
Salam Aidiladha :)
Assalamualaikum. Night.