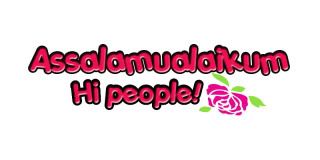 Assalamualaikum.
The end of semester one :)
Aku cuma nak cakap aku dah habis semester pertama sebagai student Asasi Undang-undang UiTM. *tepuk tangan* Lepas jer exam ctu 085, malam tu aku terus blah dari UiTM tu haha kejam tak?
Sekarang aku sedang elok bersenang lenang di rumah sambil goyang kaki sembilan puluh darjah. Cuti sebulan ni aku nak manfaatkan sebaik-baiknya untuk qadha' segala tidur yang telah aku jahanamkan selama seminggu study week dan dua minggu exam week hari tu. Cuti sebulan ni aku tak nak buat apa apa yang membebankan kepala otak aku seperti hafal federal constitution sampai nak pengsan atau bukak buku law dan cuba untuk faham semua isi dia. Padahal tak faham pun. Cis.
Cuti sebulan ni aku nak memperbanyakkan aktiviti yang tak berfaedah dan menjauhi segala aktiviti aktiviti yang boleh buat otak aku penat haha.
Tunggulah aku akan menghantui hidup korang tanpa henti sebulan ni. Tunggu tunggu.