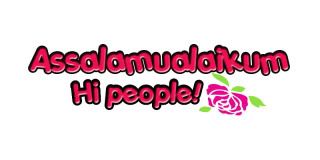 Orang ingat bila belajar undang-undang ni for sure kita akan keluar jadi lawyer. Padahal scope profession bidang ni luas. Aku sendiri dah tukar dah. Macam nak jadi judge laa pulak. Tak nak jadi lawyer dah. haha, Pun bolehh.
Kawan-kawan aku datang rumah tadi. One of them was my senior and also turn out to be one of my close friend sampai sekarang. Dia pun ambik law jugak tapi dia study kat UIA. So boleh imagine tak macam mana kalau budak law jumpa dengan budak law? Lebih lebih lagi kalau dah lama tak jumpa. Woo you can never imagine. Haha.
He asked "So how's law?" . And I just laughed. Haha. Yeah, he was the one who reminded me that law is not easy. Bila aku dapat my UPU result dulu, Foundation In Law. He was the one who called and reminded me that I have to start taking my life as a serious matter because yeah dia tahu aku ni sangat sangat sangat suka main main. So konon macam ikut nasihat abang sendiri laa kan, I started to you know lah kan. Aku pun tak tahu aku tulis apa ni. Aishh move on next paragraph.
Untuk mulakan debate, sorang tu akan bercerita pasal universiti dia macam bagus sangat kan. So of course yang sorang lagi taknak kalah gak so dia mula bukak cerita pasal UiTM dia kononya belajar kat UiTM ni best sangat sangat macam woo UiTM the best university in Malaysia padahal banyak jer yang tak best. Then tengah busy berdebat tu terkeluar dari mulut aku ni " Come on lah, semua orang tahu your people kadang kadang too over about certain things". Then the other one will start to fight back kita punya point konon macam nak backup dia punya geng laa kan. Lepas tu keluar lah tajuk pasal free mansion, politik, Anwar Ibrahim, undang-undang Malaysia, hukum hudud, Tuk Guru Nik Aziz dan macam macam lagi.
Tiga jam duduk berdebat tu memang serius tak rasa apa weh. Serius. Orang lain yang dengar tu macam angguk angguk jer, kesian.
But the best thing bila kita share kita punya opinion dengan orang yang kita dah lama kenal yang walaupun kadang kadang tu dia mungkin hidup dengan pegangan sangat sangat lain dengan kita ialah, we still respect each other and respect the differences. At the end of the story, my friend will be the one who said "Takpelah, saya percaya dengan apa yang saya carry selama ni. And I will let you live with what you believe." Cheers.
Deep inside, I really respect people who can respect others. Sebab bagi aku orang yang boleh hormat pegangan atau kepercayaan orang lain ialah orang yang sangat hebat. Bukan mudah nak respect orang lain yang share different opinions dengan kita. Diri sendiri perlu kuat dulu.
Sehingga hari ini, aku sangat kagum dengan hidup aku. Alhamdulillah, I am gifted with great people around :)
Le cousins. I am the cucu sulung in the family k. Respect sikit. Dalam family, mak cik pak cik aku suka buat lawak by calling me "Kak Long Satu Malaysia". Kononya aku pegang satu Malaysia ni lah. Haha.