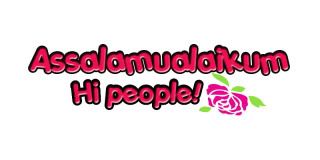 Assalamualaikum and Hi.
Aku tak busy pun. Saja malas nak update blog. Haha. Konon.
Minggu ni minggu aku pack kepala otak wayar dah almost tercabut. Serius. Aku ada exam hari Rabu ni untuk Law 016 : government and politics in Malaysia. Lepas tu test Bel 260 ala-ala muet gitu skali ngan writing, speaking, listening semua tu. Then kena submit individual assignment for Law 012. Aku dapat tajuk 'Freedom of Religion' which kena cari artikel pasal freedom of religion tu. Yang ni aku tak sentuh langsung lagi artikel kat newspaper pun belum cari lagi. Haha. Gilaa laa aku nanti. Assignment Law 016 group work : Seperation of Powers in Malaysia. Sekali ngan assignment direct with presentation. Research for Law 038, group aku kena carry research pasal 'Kidnapping in Malaysia'.
Amacam banyak gila masa senggang aku kan? Haha.