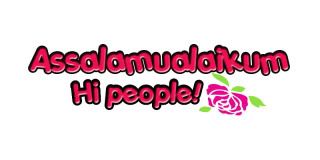 Assalamualaikum and Hi!
Sekarang kat Kelantan. Okay its 4:43 a.m. Aku demam sekarang but perlu bangun to finish my first essay for BELL 260. So lepas 20 minit merangka semua points, this is what I come out with. And yeah, do correct me for any grammar mistakes or vocabulary failures. Tak tahu ke aku kan suka typo. Hahaha.
Who Am I?
Name :Nur Liyana Izzati binti Abd. Aziz
Who am I? I'm just a girl, a student, a daughter and a sister to my youngers. My name is Nur Liyana Izzati binti Abd Aziz. You can call me Liyana, Yana, Izzati and some even call me with my full name Liyana Izzati. I was born in 26 April 1994 so right now I am eighteen years old and I was born and raised in Kelantan. I am the eldest among five siblings. My mum is a teacher while my dad is a businessman. My previous school was SMK Bachok and until this moment I still love my school very much. I could still remember most of the moments that I gained and created there. Actually, I do not know much about myself but I really hope that one day someone can comes directly to me and tell me who I am and help me to find and develop my skills and potentials.
Right now I'm taking law in UiTM Kampus Sungai Petani. I am here because of my goal which is to be a lawyer. I have a great passion in law. Being a lawyer or a law expert has been my ambition since years ago. So when I was applying for my UPU just after my SPM result was announced, I chose to pick law as my major choice or main choice. And Alhamdulillah this is where I am now. I do and I really hope that my choice to be here today is the best decision I had made for my future, my family, my country, my religion and for my whole life of course. My main reasons why I am here is to achieve my goal and to learn a lot of things that might be useful for me. I am here to gain as much knowledge as I can. I am here to develop my confidence level, to get to know what life really is, to enhance my discipline, to experience how university/hostel life feels like and of course I am here to be a better person in every way that someone could ever be. I want to be a successful person. I want to be successful in every aspects of life not just in my studies but I want to be the best in everything that life can offers to me. InsyaAllah.
I really love my BELL class so much especially the lecturer, Miss Anis. She inspired me a lot to learn English. I am not really good in English but I hope that throughout this semester I could improve my English and also at the same time improve my communication skills. English is very important as it covers most of the things right now. It is an international language and as a student of law, I have to master English well because most of the theories and philosophies of law are in English. At the same time, I have to conquer the language well in order to get at least band 4 for my MUET. For the first few days in the university, I felt quite down because most of my classmates are good English speakers and they can talk so fluent. But after few session of muhasabah diri, I started to know and learn that this is just a beginning and I still have time to improve my English. So I really really hope that Miss Anis could help me with my English and to achieve the best level of English that I can. I still remember that our first rule in the class which is, Learn with all your heart. I will try my very best to learn with all my heart not just to pass the exam but to be 'ikhlas' with it. I hope that the knowledge that I will gain and I had gained will remain forever in my soul and heart. English might be hard for me but I believe that giving up is not an option!
Padat dan ringkas kan? Hahaha. Cukuplah satu page. Otak aku tak boleh nak fikir banyak banyak ni. Hingus dah meleleh setiap kali aku cuba untuk taip ayat baru. Haha. Kbye. Need to sleep!
p/s : Bell260 is english subject. Hoorayyy. Errr.