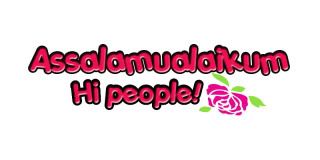 Assalamualaikum.
This is emotional k.
You know what, today should be a very happy and exciting day for me . Well, its my sister's birthday and yesterday I had spent like the whole day at the mall. Choosing the best cake for her. See, aku yang paling excited k. Tetiba jer petang tadi, someone had spoilt my mood entirely and I feel very horrible right now. Serius.
But yeah, don't worry. Aku bukan jenis yang cerita masalah aku kat orang. Aku cuma cerita kat orang yang aku percaya jer.
Everyday I smile and you know act like everything is good, nothing's wrong. Its called putting everything aside and be strong. That's it.
I'm not in the mood of blogging, writing or anything. I'm not in the mood of doing anything. To those yang IM aku kat facebook, tanya pasal itu ini. Sorry guys, I'm not okay right now. I need time to recover from this.
Cuma ni jer motif aku update hari ni. Kalau tak, aku tak update.
Happy Birthday to my sister,
Ardini Izzati.
Sorry for all those tensions, head aches, problems that I had caused to you before. Ehem, macam la ada kan? Takde pon sebenarnya. Aku kakak yang baik. LOL.
Wish you all the best. Have a good future, marry a nice man then bless with cute children. Manage to pursue your studies, be what you want to be. Have a good career and yeah lead a happy life :)
That's all. Abaikan emo-emo bagai tuu.