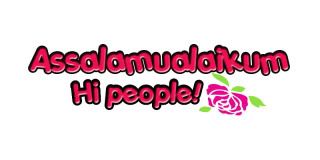 Assalamualaikum and Hi readers.
Sebenarnya dah janji ngan kawan-kawan aku nak pergi sekolah hari ni. Tapi tak jadi. Sebab apa aku nak pergi sekolah? Sebab nak pergi ambik no pin upu aku. Hahha. Aku memang teruk. Orang lain tahun lepas lagi dah ambik no pin upu, dah siap isi dah pon. Aku pulak baru nak pergi ambik. Kalau bukan sebab esok lusa dah result, maybe aku tak pergi ambik lagi kot. Haha. Apa nak jadi aku ni. Nanti tak tahu lah nak masuk universiti mana.
Sorry sebab aku cancelled last minute awok awok. ( Amy and Tikah )
Hari ni aku rasa semangat nak pakai baju kurung. Sebenarnya nak pakai baju kurung kalau pergi sekolah jer, tapi tak tahulah. Aku just rasa nak pakai, no valid reason.
Tadi aku pergi kerja. Yeah, kerja stockist mak sendiri pengalamanya lain. Haha.
Gambar ni adik aku yang Form 1 tu ambik. Grr. Susah gila nak suruh dia ambik gambar aku. So, appreciate.
Walaupun gambar ni tak ready. Kahkahkah.
Wohoo, aku sengaja letak gambar ni. Just to remind myself that I need to diet since I have gained like few kilograms now. Diet...diet! Seriously. *Pipi dah makin kembang, and I nampak gemok.* Waaa!
After that, I drove to Ariani KB. My mum wanted to buy an Ariani scarf. You know, when she said one means of two and so on. Biasa la tu. Hey, I got two bags. Haha. Aku sangat kaya. My mum's handbag is full with money while I have only 2 ringgit in my purse. Serious.
*Tetiba gambar guna handphone nokia buruk aku nampak boleh diterima*
I really like this style. What do you think? Tudung bawal tapi nampak macam shawl. Thanks to
Ardini
for this idea. Hahaha. Nak tutorial? Hmmm, aku tak buat tuto kot
Thanks to Nurin sebab ambik gambar Kak Long kau ni. hehe.
That's all, macam apa-apa jer entry aku kan? haha.