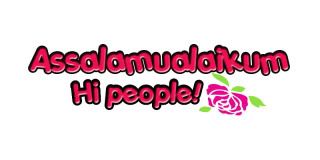 Assalamualaikum and Hi awak-awak semua. Hari ni mood aku happy sebab aku update blog semalam. Then tengok 66 orang like and share. Okay, terharu. Lap air mata kejap. Hahaha. Terima kasih kepada yang baca entry aku semalam. Korang sangat sweet. Eh, jom pergi makan? Aku belanja. Hehe. Aku belanja demo bayar sendiri ah boh.
Okay, sebenarnya hari ni aku nak join segmen daripada
Nabil
. Aku tak tahu nak panggil apa ni . Abang, pak cik, atuk, sama umur or apa sebenarnya. Hahaha. So, aku guna
Nabil
je lah walaupun nampak macam kurang ajar jer panggil orang yang lebih
tua
berusia dengan panggilan nama diorang sahaja. Aku kan baik. Baik sangat *mata pandang atas, tangan di bahu*
So sebenarnya dia buat segmen ni untuk appreciate beliau punya follower. And sebab aku merupakan follower setia blog beliau, maka aku diinvite (perkataan apakah ini?)
Syarat-syarat nak join ini sangatlah mudah macam makan kacang sahaja.


Mestilah menjadi follower blog beliau.

Buat satu entry yang bertajuk ' SEGMEN DOODLE UNTUK FOLLOWER BY NABIL'. Jangan lupa copy banner tu and masukkan dalam entry yer.

Tag beberapa orang kawan untuk join.

Link kan entry anda di ruang komen segmen tersebut. Sertakan sekali nick name, umur (kalau nak), dan warna (kod html) yang kita nak.
Mudah saja kan?
So aku nak tag :