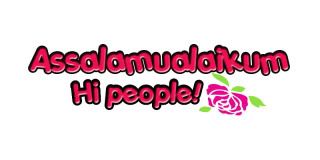 Description tu ape? Haha.
Assalamualaikum and Hi readers!
Hari ni memang aku tak tahu nak update apa dia. Serius.
Semalam, ada akak ni invite aku pergi satu group ni. Nama group tu "Liyana". Mula-mula tu anxious gak nak tahu apa ada dalam group ni. Then bila aku telah di-approve oleh Adminnya, Liyana Ramli. Aku jadi gila mereng kejap. Semua orang dalam group tu Liyana kot. Macam-macam Liyana ada wei. Excited kejap aku. Haha.
Oh well, aku sebagai salah seorang Liyana berasa terpanggil untuk join group ni.
Liyana maksudnya Kelembutan. Haha. Kelembutan bukan gedik k. Ramai orang konfius antara dua perkataan ni. Alaa, tak semestinya semua orang yang nama Liyana gedik kot. Aku tak.
Apa nama korang?
Nur Liyana Izzati. Seorang perempuan yang emosi tak stabil most of the time. Harap Maklum.
p/s : Eh, korang boleh add aku kat FB. Just search Liyana Izzati Abd. Aziz. Takpon tekan kat Facebook badge kat sebelah kanan tu yer. Kalau aku tak approve, sound aku sikit. No problem punya.