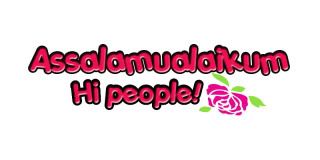 Assalamualaikum and Hi bloggers.
Oh yeah, hari ni aku rasa macam nak join satu contest ni dari blog kawan kita
Aein.
Tetiba aku rasa bersemangat nak join contest walaupun selama ni tak pernah-pernah join contest pon. Haha. Lagipon Aein sendiri datang invite kita, so kita rasa okay lah kita join la. Apa salahnya try kan? kan?
By the way, kenapa aku guna bahasa 'kita-kita' ni. Kitew rasa macam menyampah gila tau dengan diri kitew sebab kitew tulis macam ni. Haks haks haks.
Eww, aku memang tak boleh blah dengan orang yang tulis macam ni.
So back to the topic kita yer.
Also, korang jangan lupa untuk like and follow semua facebook fanpage, facebook account and everything yang telah dimention oleh cik Aein kita yer. Ye lah kita kena lah support sponsor yer kawan-kawan.*Apehal ayat aku macam apa jer ni.* Oh maybe nervous kot, first time nii.
Aku nak tag :