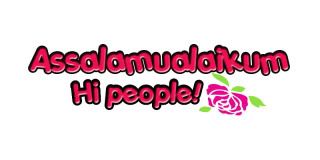 Assalamualaikum.
Hari tu aku pergi tengok friendly match netball dengan
Ardinie Izzati
. Then, jumpa
Kimie
yang datang dengan mak dia. Alalala, sweetnya kau. Kitaorang tak buat ape pon kat sana. Just tengok dan pantau dari jauh jer. But well, gambar
Kimie
takde. Dia tak nak ambik gambar ngan kitaorang. So, biarlah.
Tak sabar tunggu Kimie buat cover lagu Babak Pertama. Hahaha. Lagu favourite aku tu
#Tu je lah cerita hari ni. Ngee.
Ops. Sebelum aku lupa, aku nak invite all bloggers to join this group
Blogger Otai~
on Facebook. Group ni baru jer sebenarnya. Blogger
Syafiq Yusof
yang buat. Aku ngan dia baik jugak sebenarnya. So, aku nak invite korang untuk join group ni k. Jom kita join ramai-ramai! Hehe. Boleh la nanti korang ping entry terbaru korang, boleh share blog masing-masing and macam-macam lagi.
Klik situ. Kalau tak nak, korang search jer kat FB tu.
Terima kasih Cikgu Syafiq sebab jadikan saya admin group tu. Hehe. Saya sangat-sangat terharu. Kihkih. Tapi serius, terima kasih. Nanti korang join laa group ni, aku boleh approve. Hehe.