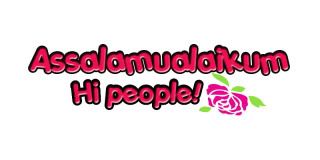 Assalamualaikum readers.
Lama tak update blog kan? Okay, lets consider 3, 4 hari sebagai lama. Haha. Banyak benda yang berlaku pada aku akhir-akhir ni. Tapi tu lah pasal, mood untuk mengupdate blog macam kureng sikit sekarang. So, aku memang takde mood untuk mengupdate cerita-cerita yang best dan awesome buat masa sekarang.Maaflah entri-entri aku akhir-akhir ni macam takde motif dan makna sangat. But seriously, inilah kehidupan terbaru aku sekarang. Hebat kan?
Ramai yang tak tahu yang saya sebenarnya seorang yang sangat simple. Seriously! Aku akan pakai apa yang aku nak pakai dan aku obviously tak kisah apa yang aku pakai. And of course bila aku kata aku simple, it means everything about me is simple! Bukan sahaja apa yang aku pakai but also aku punya perangai, attitude, the way I think and of course the way I behave.
Less is More. I am a simple girl. My clothes are not fancy, my intelligence is not noteworthy, my talents are not many, and my looks are not worthy of awe. In one hundred years, no one will remember my name. I will not be in history books, and no fifth-grader will write a social studies essay about me.I try too hard, I fall a lot, I smile too much, laugh too often and live my life the way I think I should. That's all about me.
Baju kemaja tu memang besar lah. Aku siap boleh buat jadi macam cardigan pulak. Hahaha. Oh, abaikan paha besar itu okay.
Kepada seorang adik yang selalu tanya aku kat mana aku beli baju, berapa harga baju aku and etc, my advice is just be yourself okay. And InsyaAllah, the beauty will come directlty to you.