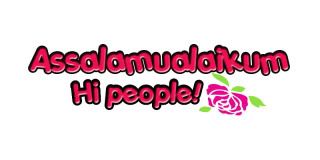 Assalamualaikum readers.
Dah lama tak update blog kan? Tetiba semangat nak update blog berkurang sekarang. Thanks to those yang sentiasa baca blog and klik yang mana patut. Hehe, jasa baik korang sangat aku hargai. Sampai anak cucu aku, aku akan kenang laa.Okay, yang ni over kan?
So, lately ramai gila yang text and call aku. Tanya pasal the UTP offer. Alhamdulillah, aku dapat tawaran tu. Memang aku happy gila sampai melompat-lompat. Haha. Tapi of course, when you want to make a decision about something especially kalau benda tu melibatkan masa depan and comitment, I have to think deeply. Aku kena fikir banyak-banyak kali.
Tapi aku rasa dan aku almost sure tak nak pergi la wei. Aku bukannya terer sangat engineering ni. Tak pernah sekali pon dalam hidup aku ni, aku berangan nak jadi engineer sebenarnya. I always see myself as a doctor, teacher, businesswoman, and anything else but not an engineer. Dah la masa sekolah dulu, aku memang "terer" habis Fizik. Masa mula-mula aku bagitau umi aku yang aku nak pergi UTP hari tu, umi aku macam terkejut jugak. Yelah, dia memang tahu aku tak berapa nak minat engineer. Tapi sebagai ibu yang supportive, umi aku tanya
"Nak pergi ke? Kalau nak pergi. Pergi laah"
. Tapi, dia sempat tambah
"Kalau pergi, belajar sampai habis yer!"
. Amaran keras tuu. Hehe.
Why We Sometimes Write "Etc" in Exams? Because it means End Of (E), Thinking (T), Capacity (C).
Selama tempoh aku bertapa ni, sempat jugak aku siapkan satu dua kerja seni walaupun tak berapa nak berseni sebenarnya. Alhamdulillah, header untuk
kimie
dah siap. Selagi tak siap header budak ni, selagi tu dia bising-bising text aku malam-malam tanya pasal header dia. Sekarang dah siap, Ambik ko! Harap dia dapat berblog dengan jayanya lepas ni. Huahuahua.
Kimie
has been my best friend since years. Uweek :p Walaupun kadang-kadang tu aku selalu marah dia lepas tu tak pernah nak mintak maaf for everything, dia masih lagi sanggup terima diriku ini. Waah, caption sengaja nak buat dia terharu. Haha. Tapi serius, aku selalu buat dia sakit hati, menyampah, marah, lepas tu aku buat don't know jerr. Buat muka suci macam takde salah langsung .Lepas tu time aku takde kredit plus duit dalam poket ada 2 hingit jer, aku mintak ngan dia kredit then terus dia share. Kalau aku marah dia waktu aku takde mood, dia tak pernah nak balas balik or bagi jawapan yang annoying as a return. Aku pulak yang selalu bagi jawapan yang ntah ape-ape macam
"So, am I suppose to be impress by that?"
takpon
"Ikut suka mg ah gom!"
. Tapi bila fikir balik, kat mana lagi nak jumpa kawan yang macam ni? Thanks ah
Nyet
for everything.
Ni header aku punya. Amacam, cun tak? Ahakahak. Kihkih :)
I would like to say sorry to
Mieyra
and a few others because aku belum sempat siapkan header korang. Sebab tu dulu, aku dah cakap yang aku tak boleh nak janji about this thing. But InsyaAllah, I will find some time to finish them okay. Again, sorry.
Okaylah, tetiba entri aku jadi panjang macam ni. Hahaha. Stop kat sini dulu nanti korang muntah baca entri panjang-panjang.