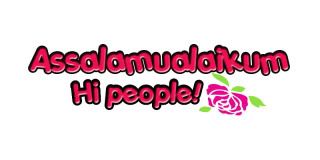 Assalamualaikum readers and bloggers. How's your last day of 2011 so far? Alhamdulillah.
Hari ni aku nak buat tutorial photoshop. Again? Aww! Haha. Ni tutorial kedua lepas tutorial photoshop aku yang pertama berjalan dengan lancarnya.Hehe, bajet.
Tekan sini untuk Tutorial Photoshop yang first dulu.
Hari ni aku nak ajar macam mana nak focus on object but blur the background. So, lets start our business okay.
1. Open gambar yang korang nak.
File-Open
2. Select area yang korang nak.
3. Untuk step 2 tadi korang boleh guna dua tool which is Lasso tool atau pun Quick selection tool untuk select area tu.
4. So obviously, lebih kurang macam ni lah.
5. Korang tekan button Edit kat atas tu. Then, copy. Edit-Copy
6. Sekali lagi korang tekan Edit, then paste. Edit-Paste
7. Nanti akan keluar layer macam ni.
8. Tekan layer background.
9. Go to "Filter-Blur-Gaussian Blur"
10. Korang setkan radius blur yang korang nak tu.
Okay, dah siap. Macam ni lah jadinya. Taraaa!
BEFORE
AFTER
Ntah aku buat macam fail jugak ni. Nanti korang boleh try sebab memang mudah bila korang dah faham step-step dia.
Also, kalau korang tak nak guna "Gaussian blur" pon takpe. Boleh guna blur yang lain macam Motion Blur, Average blur and etc. Alaa, korang lebih hebat daripada aku kot kalau bab-bab photoshop ni sebenarnya. Hehe. Kalau tak faham tanya okay. Jangan risau, gua tak makan orang baai! Hehe.