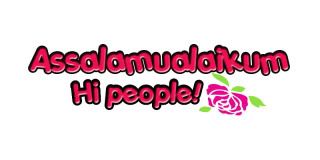 Assalamualaikum readers !
Alhamdulillah , that's all i could say . kenapa ?? guess what , aku dapat offer ke EduCamp UTP. What?
Nama : Nur Liyana Izzati bt. Abd. Aziz
Kad Pengenalan/Pasport : 940426-03-****
Jantina : Perempuan
Sesi EDUCAMP : 22/12/2011
Masa : 7:30 pagi
Tempat : Dewan Chancellor, Universiti Teknologi PETRONAS, Bandar Seri Iskandar, Tronoh, Perak
Seriously macam tak sangka after all the give ups masa lepas umi aku cakap
"NO"
to my Taylor's University offer hari tu
(Walaupun aku memang tak nak pergi pon)
. Menurut kata beliau , offer yang aku dapat tu macam satu propaganda yang dah biasa dilakukan oleh syarikat-syarikat swasta lepas budak budak SPM. Budak budak yang macam aku pon then akan terpengaruh dengan propaganda tu. Yeah , umi is totally right. Aku terpengaruh sampai bila umi cakap NO tu , aku buat muncung boleh simpul ribbon lagi. Teruk ! Propaganda yang sangat menjadi . And my other family members as my aunts and uncles also said that . Nak taknak , I have to respect their decision. I know they were expecting a lot and the best from me as I am the eldest . * gilaa , aku paling tua ?? * .
Again , Alhamdulillah , thanks to Allah for giving me this chance untuk aku prove to everyone yang aku boleh berjaya . But i'm not putting too much hopes on this . My one and only intention joining this EduCamp is that , gaining some new experiences that maybe can be used later . Thank you to all those who keep on supporting and praying for me especially my family and most specifically my mom , my sister
Ardini Izzati
, my aunts CheSu CheNgah CheChik , my uncles AyahSu AyahNgah . AyahSu and CheSu , thanks because you both had been buzzing around with me searching for information on this EduCamp and help to confront umi on this matter as this had become a conflict for umi to make decision to let me going there or not .
InsyaAllah tomorrow umi will give me the confirmation . And not forgotten to all my friends and teachers of SMK Bachok , i will always love 5 Alpha/2011 . Aku terhutang budi sangat sangat dengan classmates aku because dah share banyak benda dengan aku such as , food yang free free tu * mintak halal yee :)
Alhamdulillah, Thanks everyone for everything. I'm speechless and thankful. Like what I had said earlier, I'm not expecting too much about this camp. I just hope to do my very best and of course I hope my best is just good enough for me to get the offer. Really hope?