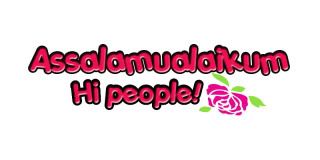 Assalamualaikum warahmatullah hiwabarakatuh ustazah!
Bila nak bercakap soal agama, soal aurat, soal halal haram. Mesti orang akan anggap kita ni ustazah walaupun aku ni jauh sekali atau lansung tak layak nak dipanggil ustazah. Okay fine, intro sangat sengal.
Wear It Right (WIR) Campaign
Covering The Chest Is the Best!
"How should I start this topic?"
Sisters,
Nowadays, we can see a lot of Muslim women wearing Hijabs or Head Scarfs to cover their hair. Alhamdulillah, it is a very good sign. And right now, we should promote and encourage more Muslim women to not just cover their head and hair but also follow the real Islamic dress codes. Including, how to wear hijab completely, what should we wear or what should we avoid and so on. Menutup aurat itu wajib !
However, my main focus today ialah
"Covering The Chest"
This
Wear It Right (WIR) - "Covering The Chest Is The Best"
campaign mungkin nampak kecil and meaningless to certain people . Some of us might say
"Aku dah lama tahu yang kita kena tutup aurat yang termasuk sekali dengan dada. Benda ni aku dah tahu dari zaman nenek moyang aku dulu lagi..."
Yes my sisters! Memang kita semua tahu tetapi berapa ramai antara kita yang betul-betul mengamalkanya ? Pertanyaan untuk diri aku jugak.
Personally, aku bukan seorang yang alim dan baik sangat pon. I made a lot of mistakes and I admit, sometimes I didn't cover my chest too. Tapi, aku percaya setiap manusia boleh berubah kalau kita beri peluang kepada diri kita untuk membuat perubahan. I want to be a better muslim. Itu yang paling penting.
Aku tahu susah untuk melakukan perubahan. Lebih-lebih lagi kalau kita sudah terbiasa dengan
"cara kita"
. Mengubah sesuatu yang kita sudah sebati memang tak mudah, ini mungkin satu proses yang panjang dan memakan masa. Kita tak boleh tergesa-gesa. Biar lambat tapi kesanya biarlah berpanjangan.
Sebenarnya aku pernah ternampak campaign ni dulu, tapi aku tak tahu puncuk pangkalnya. I mean, siapa yang mulakan, macam mana nak sertai. Then yesterday, barulah aku tahu yang kempen ni dimulakan oleh
Sis Sue Anna Joe
. So, aku fikir why not aku join? Menyebarkan benda yang baik dapat pahala. Kenapa tidak menyebarkan syariat Islam? Kenapa tidak mahu mengubah benda yang tidak betul? Kenapa perlu malu untuk menyerbarkan benda yang berguna dan bermanfaat?
Pesanan aku mudah je:
If you are a father, tell your wife (s) and your daughters to wear hijab and cover their chest,
If you are a brother, advise you mother and sisters to cover their hair and their chest,
If you are a mother, ask your daughters to cover their chest,
And If you are a Muslim woman, cover your aurat properly including the chest. You will be a great Muslim.
Farihin and I. I though that I had covered my chest enough? What do you think?


The Most Wonderful Picture of a Muslim Woman is When She Wears The Hijab. She is pure, clean and clear. But When She Wear the Hijab properly and completely. She is totally beautiful :)