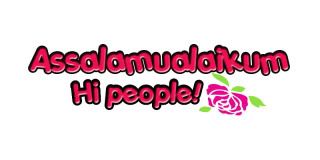 Assalamualakum and Selamat pagi readers.
SPM is coming. Doakan aku okay. Aku akan berhenti blogging for a while. Aku pasti akan rindu korang sangat-sangat. Korang jangan rindu aku lebih-lebih tau. Nanti gua sebak tahap gaban. Hehehe. Bukan boleh percaya sangat minah ni muka macam rempit tapi hati macam gula-gula kapas. Tapi takpe maybe sekali sekala aku akan online FB kot. Just wish me all the best. Diberi kesihatan yang baik dan InsyaAllah dapat jawab semua soalan dengan lancar dan smooth je. Also, aku diberi ketenangan semasa jawab paper-paper and tak mudah panik and stay fokus. Sebab dalam exam especially exam yang penting macam ni, kalau kita dah start panik memang "hancus" laa.
Okay, aku jugak nak mintak maaf kepada semua pembaca blog ni. Maaf kalau terkasar bahasa, terlepas cakap and so on. Sometimes korang tanya soalan kat FB, Formspring and aku jawab ntah ape-ape. Sorry okay. Tapi kalau orang baik ngan kita InsyaAllah, kita akan balas dengan kebaikan jugak. Sorry kalau selalu post and update pasal benda yang mengarut. I write about random things. Maybe ada post aku tu yang buat korang macam terasa, tak puas hati or "ish, budak ni sial sungguh!". Hehe. Sorry sangat sangat.
Tu je laa kot. InsyaAllah aku akan bagi yang terbaik dan teruskan support aku. Hanya Allah je mampu balas jasa korang, I love you. Muah :)
Nerd nak pergi sambung study ni. Papai.