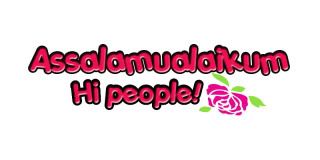 Assalamualaikum
readers

Hari
ni
aku
tak
pergi
sekolah

bukan
aku
sengaja
tak
nak
pergi
tapi
kepala
ni
asyik
berdenyut
-
denyut
je
. plus
cuaca
sekarang
yang
tak
menentu
.
kejap
hujan

kejap
panas
terik

sangat
mempengaruhi
"
kesihatan
"
aku
.
disebabkan
tu
jugaklah
aku
sekarang
diserang
batuk
dan
selsema
yang
teruk
sangat
-
sangat

. body please
sihat
cepat
,
spm
is just around

okay!
semalam
aku
kemas
bilik
. then, i found this little box yang
banyak
sangat
treasure
kat
dalam
tu
.
ada
album lama
, my old-super cute pink diary

, my first
pendrive
and few cute storybooks. hey,
dah
lama
aku
cari
benda
-
benda
ni
! especially the album.
banyak
kenangan
aku
dalam
tu
since
zaman
kanak
-
kanak
ribena
hinggalah
sek
arang
ni
.
dah
besar
panjang
.
aku
memang
seorang
penulis
tegar
.
kot

haha

.
dulu
hari
-
hari
mesti
tulis
something
dalam
diari
.
walaupun
beberapa
baris
perkataan
yang simple
tapi
sangat
sangat
meaningful.
seingat
aku
,
aku
stop doing all this thing at the end of 2009
kot
.
bila
blog
ni
muncul
, i started to express all my
taughts
and feelings in this blog.
"If you would not be forgotten, as soon as you are dead and rotten, either write things worth reading, or do things worth writing." - Benjamin Franklin (1706-1790)




I spent hours reading all the stories and all the words that i wrote back years. some was so exciting and so vivid.
bila
baca
balik
semua
tu
,
aku
rasa
sangat
sangat
terharu
dan
nak
nangis
.
aku
sedar
yang
banyak
sangat
salah
dan
khilaf
yang
aku
telah
buat
selama
ni
.
tapi
aku
selalu
tak
nampak atau"buat-buat" tak nampak semua tu.

i realize i was so stubborn and i don't care about others' feelings. i was selfish
padan muka aku

. then bila dah sampai ke tahap ni, baru kita sedar kat mana salah kita. apa orang kata, sudah terhantuk baru terngadah

tapi bila kita dah kehilangan sesuatu yang berharga tu, susah untuk kita dapatkannya balik. trust me, you will never know what you have until you have lose it
i discovered this story. it was written
at the end of 2006. hari di mana aku nak pergi ambik result upsr. that morning, my mum gathered both my sis and i to her room. and based on what i wrote in this diary

. my mum cried for us. she told us that no matter how many A did we get in this exam, never ever lose hope in yourself! she was trying to please us. well, at that moment, upsr means everything okay

how can i forgot my mum's last sentences?
"umi selalu sayang anak-anak umi and no matter what happen to you, i will always be there"
yup! she will always be there to point out the right direction. i love you mum

. nak tahu tak masa tu adek aku dapat straight a tapi aku tak! haha. masih lagi ingat moment tu. moment peluk cikgu-cikgu yang dah banyak sangat mengajar aku selama ni. especially my beloved, cikgu siti. i was too sad at that moment. i was one of the targeted students and i always scored straight before but in real exam, i failed! aku rasa macam aku dah kecewakan

semua orang yang berharap tinggi kat aku. sorry

*sigh*

also, aku terjumpa senaskah surah Yaasin dalam diari tu. as far as i can remember, it was given by my ustazah. aku rasa naskah tu untuk pelajar-pelajar yang ambik subjek BA masa form 3. masa tu kitaorang tengah main game paling banyak hafal rasanya.

and i am one of the winners

(rasanya semua orang menang kot. haha) waktu tu, i was wondering apa ada pada naskah ni i mean, it was just a usual surah Yaasin. memang aku mengaku, aku tak expect untuk terima ni sebagai hadiah. it was just a normal surah yasin and i have few of them kat rumah.
kenapa perlu bagi ni sebagai hadiah

masa tu aku masih lagi berakal pendek.

last night, aku baca Yaasin guna kitab yang my ustazah bagi. first time! and

i cried a lot. setiap malam aku baca yasin tapi semalam memang sesuatu yang totally meaningful! i cried for everything that i had lost but for sure one very very strong thing that made my eyes teary during reciting Yaasin was the fact that i am 17 and i am in the final year. and
to count all the hearts that I've broken

was impossible

i mean, throughout all these years I have teachers, parents and friends expecting so much from me but all i did was keep disappointing them. I know i can do better for them, just to make them smile and happy but i was to obsess about other things!

aku banyak buat silap kan?
what you get is actually what you give

thanks for reading =)

anyway, korang suka tak icon-icon comel tu??

its cool right? haha.