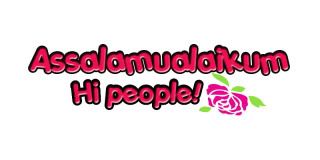 Assalamualaikum awak-awak sekalian!

Rindu saya tak

Tak ? okay,kecewa
gila!
Esok weekend

Hooray

sudah cuti

. Hati pon sudah berbunga-bunga

sekarang. minggu depan sekolah dua hari je. then cuti Deepavali. holiday lagi

amboi, happy bagai yer. sudah lupa ke pada spm


Arghh!
so, hari ni entri
aku ringkas dan padat jer okay. aku nak siapkan tag yang telah diberi oleh
kak tiha
. thank you kak tiha

I love you

(okay, ini melampau!) haha. back to the topic, hari tu kak tiha telah "mentag" aku. ( "mentag"= men-tag bukan menatang okay
!) tapi disebabkan kesibukan yang melanda-landa, aku tak sempat siapkan awal-awal. so hari ni aku rasa nak buat laah. terbuka pintu hati le tuu!
HERE THE RULES :)


Each person must post 11 things about themselves in their journal.

Answer the questions the tagger set for you in their post and create new questions for the people you tagged to answer.

You have to choose 11 people to tag and link them on the post.

Go to their page and tell them that you have tagged him/her.

No tagging back.

No " YOU ARE TAGGED IF YOU ARE READING THIS." You legitimately have to tag 11 people
11 things about me

My full name is Nur Liyana Izzati bt. Abd. Aziz. tapi suka guna "Liyana Izzati" jer.

Orang melayu tulen walaupun muka macam pan-asia

haha!

Seorang yang sangat gila pada waktu tertentu.


Juga seorang yang sangat skema pada waktu tertentu.


Sangat suka subjek sejarah dan english
dan sangat tak suka physic.

Lebih prefer online daripada tengok tv
.

Suka blogging

more than anything else in this world!

Suka cream cake

sangat-sangat. tapi kalau bagi chocolate cake free still lagi terima! haha

Seorang perempuan yang tak suka pakai cermin mata walaupun tahu dia rabun
!

Lebih suka camera
daripada handphone.

Seorang yang penyabar dan lemah lembut sebenarnya
walaupun nampak sangat brutal!
huh bajet pan-asia!

haha
Kak Tiha's Questions:
1) What's your favourite colour?
Me : i'm gonna say its something between black and pink. i don't have any problems with colours actually. selagi nampak cantik, selagi tu okay!
2) What are the best memories you had?
Me : best memories? i have lots of them. yang paling latest aku rasa ialah form 5 punya trip hari tu. fuhh, memang mantap!
3) Between comics and novels, which one you like? state why?
Me : i personally love both but if i have to choose. i will probably choose comics because they are more relaxing and not really time-consuming. baca novel lambat apa? bagi aku laa.
4) Are you a gadget lover? why?
Me: No! i'm a gadget psycho! haha.
5) What's your favourite subject i
n school or college?
Me: English has been my first love since years ago. tapi tak bermaksud aku tak suka subjek lain. physic okay apa? (dengan nada terpaksa!) physic awww! physic rules! haha.
6) Facebook or twitter? and state why you choose it.
Me : i prefer FB! i'm a loyal, active and productive(???) facebook user. maybe because most of my friends are using this. so, i have to stick with it laaa. hey man, nowadays if you don't have facebook, it seems like you don't exist in this world. FB has changed the world entirely :)
banyaknya soalan!
7) What are the differences between IPTA and IPTS?
Me : ni yang aku tak tahu ni. ntah la kak, tak pernah masuk lagi laa kak. soalan ni postpone jawab bila umur atas daripada 18 tahun buleh idak? hehe. buat masa sekarang, yang aku nampak perbezaan dari segi ejaan je la kot T_T
8) What is your nickname
at home?
Me : Angelina Jolie! hehe. kiding! sepak kang baru tau kan? tak lah. my nickname is kak long. i'm the eldest. biasalah tu.
9) Describe yourself in three words?
Me : Energetic, Clumsy, Responsible!
10) If you have 1million in your hand, what will you do?
Me: well, susah nak cakap sebenarnya kalau benda tu takde depan mata. haha. aku tak nak la bajet baik cakap " i will donate
ALL
my money to the old folks homes, rumah anak-anak yatim etc. bajet!" aku tak lah baik sangat. tapi kalau di bagi wang sebegitu. aku akan bagi umi aku sikit buat bekalan nak pergi haji nanti. then, bagi sikit kat adik-adik aku buat beli ais krim dgn gula-gula kapas. then, aku akan beli benda-benda yang aku nak selama ni. pastu, aku akan beli air-cond (s) letak kat public places. hey, setiap kali orang guna setiap kali kita dapat pahala okay. the rest barulah sedekah. okay tak?? aku tahu macam mengarut je kan?
okay done with kak tiha's questions. sekarang, korang pulak jawab aku punya. hehe.

Siapakah perempuan yang paling gojes, meletup dan cantik yang korang rasa selain aku kidding
Korang sangat anti dengan manusia yang macam mana
Ciri-ciri lelaki yang macam mana yang korang minat
Are you in love with someone right now i mean, tak kisah la dia tak tahu pon. hehe
When you laugh, which one is yours ketawa sekuat hati, ketawa tanpa segan silu, ketawa tapi cover your mouth or ketawa sambil tangan sepak something
Bidang apa yang korang suka give reasons
Apa sebenarnya yang korang nak dalam hidup ni
How do you measure success give your view about it.
What do you think of my blog hehe :)
Will you marry me
aku tahu soalan aku macam ntah ape-ape je kan? takpe, janji aku puas and korang still kena jawab! haha ( gelak jahat!)
happy answering

!
so, manusia-manusia yang aku nak tag ialah :
Ame Nurlyana
Amna Amnas Amin
Wee soo yen
Zaa Anastasya
Ardinie Izzati
and YOU, yes! kau lah yang tengah baca post ni sekarang. memang kau!
jangan lupa jawab soalan-soalan aku yer. kalau tak faham, roger okay! siyes penat buat benda nih tapi puas!

aku dah siap! hoorey. dah takde hutang tag :)