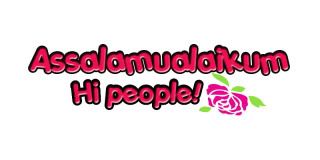 How are you people? Alhamdulillah.
Hari ni cuti. yes! baru laa ada kelapangan untuk update blog ni. biasalah pelajar sekolah macam aku ni memang busy sangat-sangat. kalau time cuti macam ni boleh la rehat sikit. plus tahun ni aku ambik spm. memang tengah stress la sekarang. help! spm cuma sebulan lebih je dari sekarang. so, memang kena usaha kuat sikit la sekarang. penat memang la penat! tapi aku kena paksa diri aku supaya tahan dan sabar. InsyaAllah. sikit je lagi. sebulan mungkin nampak lama tapi kalau nak dibandingkan dengan masa depan aku. memang tak dapat nak dibandingkan laa. aku tak nak bila ambik result spm nanti aku menangis sebab tak berjaya. aku sia-siakan masa depan aku sedangkan aku ada masa sebenarnya. aku tak nak menangis kerana kegagalan aku. i just wanna be happy and make people proud! InsyaAllah.
hari tu amy ada suruh aku buat header untuk blog dia. and Alhamdulillah aku dah siapkan. sebab dengan kawan sendiri, aku tak berkira sangat. amy has always been there beside me through my days and aku rasa header ni cuma something yang totally incomparable kalau nak dibandingkan dengan jasa beliau.hehe. aku tak tahu la apa korang rasa pasal header-header ni. aku buat pukul 2 pagi semalam dengan mata yang mengantuk sangat-sangat.
so, amy mg buleh ambik header mg sini ahhh.! sorry aku buat simple jer. tak sempat loh! pilih mana hk mg kenen!
thanks for reading =)