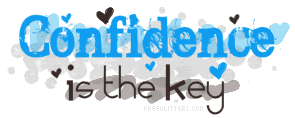 Confidence Quotes
confidence is the key... betol..betol, keyakinan merupakan kunci untuk segalanya...
ak nak cuba untuk betul2 memahami maksud kata2 kat atas 2,,, keyakinan. hmmm.. bila pertama kali ak jumpa kata2 ni kat freeglitters.com, the first thing i do ialah cuba serapkan maksud kata2 ni dalam diri ak sebaik mungkin...
result pmr akan keluar dalam masa 3 hari lagi,, of coure la ak sangatsangatsangatsangat nervous, takut, excited..macammacam lah..mixed feelings... rasa sesak nafas bila pikir pasal result ni n then boleh bawak sampai ke mimpi pon ade..waaaaaa!!!! tolong lar ak...
ak rase ak dah bagi yang terbaik semasa dalam exam ari 2.. ak dah jawab yang habis baik tapi ak x tau lar kenapa ak still lagi takut n the worst thing ialah ak x confident ngan diri ak sendiri..i keep asking myself the same questions every time.. boleh ker ak dapat 9a ni??? every time, every day sehingga ak dah x boleh pikir pasal benda lain... ya Allah, tolonglah ak, berikanlah keputusan yang terbaik kepadaku...amin...
i had asked some people about my problem,, dan jawapan yg diorang bagi macam ni " alaa, kau terlalu risau jer 2 " bila dipikir2 mmg lar ak risau, ak tau ramai org yang berharap pada ak.. n for sure ak x nak kecewakan any of them.. they had worked so hard for me all this while.. umi, my teachers, i mean everyone... semua orang yang sentiasa bagi ak support, helped me with difficult things, difficult situations..ohhhh,, i don't know how to pay their kindness.. the only way yg ak tau ialah dgn dapat 9a dalam exam ni, kalau x ak dah x tau nak balas jasa orang orang ni macam mana.... bukannya diorang mintak ak balas budi baik diorang 2,, cume mestilah we want to make them proud with us, kan??
i can't think anymore... ya Allah, berikanlah ak kemudahan dan kesenangan dalam semua perkara....amin...